Неврологічні вияви при порушенні функції щитоподібної та паращитоподібних залоз
Ключові слова:
неврологічні вияви, щитоподібна залоза, паращитоподібні залози, дисфункція, діагностика
Анотація
Висвітлено неврологічні вияви захворювань щитоподібної та паращитоподібних залоз, зокрема ті, які рідко трапляються, та особливості їх діагностики. Описано клінічний випадок поєднаної патології щитоподібної та паращитоподібних залоз.
Посилання
Barakat-Walter I, Kraftsik R. Stimulating effect of thyroid hormones in peripheral nerve regeneration: research history and future direction toward clinical therapy. Neural Regeneration Research. 2018;13(4):599-608. DOI: 10.4103/1673-5374.230274
Bauer M, Goetz T, Glenn T et al. Thethyroid brain interaction in thyroid disorders and mood disorders. J Neuroendocrinol. 2008;20 (10):1101-1114. DOI: 10.1111/j.1365-2826.2008.01774
Bathla M, Singh M, Relan P. Prevalence of anxiety and depressive symptoms among patients with hypothyroidism. Indian Journal of Endocrinology and Metabolism. 2016;20(4):468-474. DOI: 10.4103/2230-8210.183476
Bhat MA, Laway BA, Mustafa F. Bilateral basal ganglia calcification and recurrent generalized seizures as initial presentation of idiopathic hypoparathyroidism in an infant. Journal of Pediatric Neurosciences. 2015;10(2):178-80. DOI: 10.4103/1817-1745.159209
Cai X, Yousefzadeh P, Wang X. Hypercalcemia Caused By Concomitant Graves Disease and Primary Hyperparathyroidism. Journal of Endocrinology and Thyroid Research. 2018;N 3 (1):3. . DOI: 10.19080/JETR.2018.03.555603
Chang ZY, Boo AY.Y., Tulsidas H. Rhabdomyolysis: A rare complication of hypothyroidism. Proceedings of Singapore Healthcare. 2015;24(3):188-190. DOI:10.1177/2010105815598456
Cimbek A, Şen Y, Yuca SA et al. Kocher–Debré–Semelaigne syndrome with rhabdomyolysis and increased creatinine. Journal of Pediatric Endocrinology and Metabolism. 2015;Published online. DOI: 10.1515/jpem-2014-0411.
Correia I, Marques IB, Ferreira R, Sousa L. Encephalopathy associated with autoimmune thyroid disease: a potentially reversible condition. Case Reports in Medicine. 2016:6. DOI: 10.1155/2016/9183979
Diringer M. Neurologic manifestations of major electrolyte abnormalities. Handbook of Clinical Neurology. 2017:705-713. DOI: 10.1016/B978-0-444-63599-0.00038-7
Donofrio PD. Textbook of Peripheral Neuropathies. Demos Medical. 2012:11-312.
Garcia-Marin R, Fernandez-Santos JM, Morillo-Bernal J et al. Melatonin in the thyroid gland: regulation by thyroid-stimulating hormone and role in thyroglobulin gene expression. Journal of Physiology and Pharmacology. 2015;66(5):643-652.
Gauthier AC, Baehring JM. Hashimoto's encephalopathy mimicking Creutzfeldt-Jakob disease. J Clin Neurosci. 2017;35:72-73. DOI: 10.1016/j.jocn.2016.09.019
Ghorra C, Rizk H, Hachem RA et al. Association of parathyroid pathology with well-differentiated thyroid carcinoma. La Presse Médicale. 2012;41 (6p1):265-271. .DOI : 10.1016/j.lpm.2011.12.016
Ghosh M, Bhattacharya A, Ghosh K et al. A commonly overlooked motor neuron disease mimicker. Endocrinology Diabetes Metabolism Case Reports. 2014;Published online. . DOI: 10.1530/EDM-14-0085
Headache Classification Committee of the International Headache Society. «The International Classification of Headache Disorders: 3rd Edition (beta version)». Cephalalgia. 2013;33(9):629-808. DOI: 10.1177/0333102413485658
Hoermann R, Midgley JE.M., Larisch R, Dietrich JW. Homeostatic control of the thyroid–pituitary axis: perspectives for diagnosis and treatment. Frontiers in Endocrinology. 2015;Published online. DOI: 10.3389/fendo.2015.00177
Irvin GL. 3rd. The William H. Harrige memorial lecture. Parathormone and the disease. American Journal of Surgery. 2007;193(3):301-304. DOI: 10.3389/fendo.2015.00177
Ittermann T, Völzke H, Baumeister SE et al. Diagnosed thyroid disorders are associated with depression and anxiety. Soc Psychiatry Psychiatr Epidemiol. 2015;50(9):1417-1425. DOI: 10.1007/s00127-015-1043-0
Katzberg HD, Kassardjian CD. Toxic and endocrine myopathies. CONTINUUM: Lifelong Learning in Neurology. 2016:1815-1828. DOI: 10.1212/CON.0000000000000407
Kotwal SK, Kotwal S, Gupta R et al. Cerebellar ataxia as presenting feature of hypothyroidism. Archives in Endocrinology and Metabolism. 2016;60(2):183-185. DOI: 10.1590/2359-3997000000121
Kubiszewska J, Szyluk B, Szczudlik P et al. Prevalence and impact of autoimmune thyroid disease on myasthenia gravis course. Brain and Behavior. 2016;Published online. DOI: 10.1002/brb3.537
Lanfranco F. Sleep apnea syndrome and hypothyroidism. Endocrine. 2013;44(3):551-552. DOI:10.1007/s12020-013-0018-8
Levenson JL. Psychiatric issues in endocrinology. Primary Psychiatry. 2006;13(4):27-30.
Li Q, Liu Y, Zhang Q et al. Myopathy in hyperthyroidism as a consequence of rapid reduction of thyroid hormone. Medicine (Baltimore). 2017;96 (30):7591. DOI: 10.1097/MD.0000000000007591
Martin AT, Pinney SM, Xie C, et.al. Headache disorders may be a risk factor for the development of new onset hypothyroidism. Headache. 2017;57(1):21-30. DOI: 10.1111/head.12943
Meseeha M, Parsameh B, Kissell K, Attia M. Thyrotoxic periodic paralysis: a case study and review of the literature. Journal of Community Hospital Internal Medicine Perspectives. 2017;N 7 (2):103-106. DOI: 10.1080/20009666.2017.1316906
Miller ML. Causes of rhabdomyolysis. UpToDate. 2017;Published online. DOI: 10.5935/0103-507X.20170016
Nardonea R, Brigoc F, Trinkaa E. Acute symptomatic seizures caused by electrolyte disturbances. Journal of Clinical Neurology. 2016;12(1):21-33. DOI: 10.3988/jcn.2016.12.1.21
Novodvorsky P, Allahabadia A. Thyrotoxicosis. Medicine. 2017;45(8):510-516. DOI:10.1016/j.mpmed.2017.05.013
Pal P, Ray S, Biswas K et al. Thyrotoxic neuropathy; an underrecognized condition: A clinical vignette. Thyroid Research and Practice. 2014;11(3):118-120.DOI: 10.4103/0973-0354.138559
Panat SR, Jha PC, Chinnannavar SN et al. Kocher Debre Semelaigne Syndrome: A rare case report with orofacial manifestations. Oman Medical Journal. 2013;28(2):128-130. DOI: 10.5001/omj.2013.33
Papi G, Corrado S, Fadda G et al. Parathyroid gland involvement by thyroid cancer: results from a large series of thyroidectomies performed in two Italian University Hospitals and review of the literature. Journal of Thyroid Research. 2014:7. DOI:10.1155/2014/685425
Parks KA, Parks CG, Onwuameze OE, Shrestha S. Psychiatric complications of primary hyperthyroidism and mild hypercalemia. The American Journal of Psychiatry. 2017;Published online. DOI: 10.1176/appi.ajp.2017.16111226
Parsaik AK, Singh B, Roberts RO et al. Hypothyroidism and risk of mild cognitive impairment in elderly persons: a population-based study. JAMA. Neurology. 2014;71(2):201-207. DOI: 10.1001/jamaneurol.2013.5402
Policepatil SM, Caplan RH, Dolan M. Hypocalcemic myopathy secondary to hypoparathyroidism. Wisconsin Medical Journal. 2012;111(4):173-175.
Polu SR, Reddy RM. Prevalence of hypothyroidism in obstructive sleep apnea. International Journal of Advances in Medicine. 2016;N 3 (1):15-19. DOI:10.18203/2349-3933.ijam20151383
Rajvanshi S, Philip R, Rai GK, Gupta KK. Kocher–Debre–Semelaigne syndrome. Thyroid Research and Practice. 2012;N 9 (2):53-55. DOI: 10.4103/0973-0354.96047
Ryan S, Courtney D, Timon C. Co-existent thyroid disease in patients treated for primary hyperparathyroidism: implications for clinical management. Archives of Oto-Rhino-Laryngology. 2014;272(2):419-423. DOI:10.1007/s00405-014-3000-z
Rubin DI. Hashimoto encephalopathy. UpToDate. 2017;Published online.
Şahlı E, Gündüz K. Thyroid-associated Ophthalmopathy. Turkish Journal of Ophthalmology. 2017;47(2):94-105. DOI: 10.4274/tjo.80688
Samuelsson K, Palmer M, Press R. Sensory ataxia associated with Graves' disease. Journal of the Neurological Sciences. 2014;347 (1-2):406-407. DOI:10.1016/j.jns.2014.10.028
Santosh UP, Rao MS. Incidence of Hypothyroidism in Meniere's Disease. Journal of Clinical and Diagnostic Research. 2016;10(5):MC01-MC03. DOI:10.7860/JCDR/2016/17587.7759
Siegmann EM, Müller HO, Luecke C et al. Association of depression and anxiety disorders with autoimmune thyroiditis. A Systematic review and meta-analysis. JAMA. Psychiatry. Published online May 2, 2018. doi:10.1001/jamapsychiatry.2018.0190. DOI:10.1001/jamapsychiatry.2018.0190
Sharma V, Borah P, Basumatary LJ et al. Myopathies of endocrine disorders: A prospective clinical and biochemical study. Official Journal of Indian Academy of Neurology. 2014;17(3):298-302. DOI:10.4103/0972-2327.138505
Shaw C, Shaw P. Kocher–Debre–Semelaigne syndrome: hypothyroid muscular pseudohypertrophy — A rare report of two cases. 2 Case Reports in Endocrinology. 2012:3. DOI:10.1155/2012/153143
Springer D, Turker H, Turker C, Cengiz N. Neurological complications of hypothyroidism. Hypothyroidism Influences and Treatments. 2012:135-148.
Stroes ES, Thompson PD, Corsini A, Vladutiu GD. Statin-associated muscle symptoms: impact on statin therapy — European Atherosclerosis Society Consensus Panel Statement on Assessment, Aetiology and Management. Eur Heart J. 2015;36 (17):1012-1022. DOI:10.1093/eurheartj/ehv043
Takeuchi S, Kitamura T, Ohbuchi T et al. Relationship between sleep apnea and thyroid function. Sleep Breath. 2015;19(1):85-89. DOI:10.1007/s11325-014-0966-0
Tella SH, Kommalapati A. Thyrotoxic periodic paralysis: An underdiagnosed and under-recognized condition. Cureus. 2015;N 7 (10):342. DOI:10.7759/cureus.342
Ter-Markosyan AS, Khudaverdyan DN. Cellular mechanism of parathyroid hormone action in the nerve tissue. The New American Medical Journal. 2009;N 3 (2):6-13.
Waghmare S, Pawar S, Shende V, Pajai S. Sensory neuropathy in hypothyroidism: A case-control study. International Journal of Contemporary Medical Research. 2016;N 3 (11):3262-3265.
Wémeau JL, Kopp P. Pendred syndrome. Best Practice and Research: Clinical Endocrinology and Metabolism. 2017;31(2):31-213. DOI:10.1016/j.beem.2017.04.011
Yalcin MM, Altinova AE, Cavnar B et al. Is thyroid autoimmunity itself associated with psychological well-being in euthyroid Hashimoto's thyroiditis?. Endocrine Journal. 2017;64(4):425-429. DOI:10.1507/endocrj.EJ16-0418
Yeter HH. Endocrine myopathies: clinical review. Endocrinology and Metabolic Syndrome. 2015;N 4 (2):6. DOI:10.4172/2161-1017.1000178
Younger DS. Hashimoto's thyroiditis and encephalopathy. World Journal of Neuroscience. 2017;N 7:307-326. DOI:10.4236/wjns.2017.73026
Yu AS.L, Chir B, Yarlagadda SG. Clinical manifestations of magnesium depletion. Up To Date. 2017;Published online.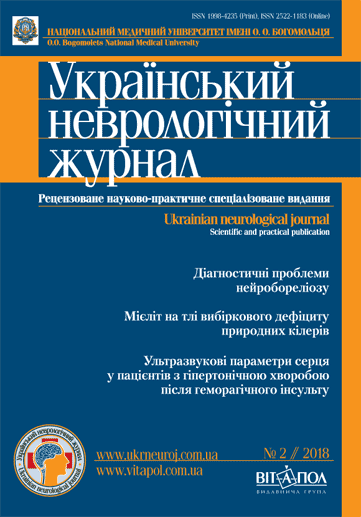 ##submission.downloads##