Професор М. М. Лапінський і студентство
Посилання
Svintsitskyi IA. Studentske naukove tovarystvo imeni O. A. Kyselia: slavetni storinky mynuloho ta perspektyvy na maibutnie. Ukrainskyi naukovo-medychnyi molodizhnyi zhurnal. 2011;1:6-16. http://nbuv/gov/ua/UJRN/Unmmj_2011_1_3 [in Ukrainian].
Svincickij IA. Nauchnaja dejatel'nost' studentov Nacional'nogo medicinskogo universiteta imeni A. A. Bogomol'ca: proshloe, nastojashhee, budushhee. Materialy ІV otkrytogo s#ezda predstavitelej molodezhnyh medicinskih nauchnyh organizacij: Sb statej. Irkutsk, 2012. Vyp. 4:12—16 [in Russian].
Dovbonos TA. Kyivskyi period zhyttia i profesiinoi diialnosti profesora Mykhaila Mykytovycha Lapinskoho. Ukr nevrol zhurn. 2014;2:100-107 [in Ukrainian].
Stoletie Chernigivs'koj gimnazii 1808—1908. Korotkaja istorichesnkaja zapiska. Chernigov: tip. Gub. pravl., 1906:475. https://viewer.rusneb.ru/ru/rsl01003739681?page=238 [in Russian].
The first meeting of Yugoslav otological-neurological-ophtalmological society held in Zagreb on January 19, 1927. Lijec Vjesn. 1927;49:383.
Shereshevskij AM, Rohlina ML, Tom A, Kestner I. Znamenatel'nye i jubilejnye daty nevropatologii i psihiatrii 1988 g.. Zhurn nevropat i psihiatr imeni S S Korsakova. 1988;1:114—115 [in Russian].
Man'kovskij B. N. K istorii kafedry nervnyh boleznej. Sto let Kievskogo medicinskogo instituta (1841—1941). K.: Medgiz, 1947:125—137 [in Russian].
Vilenskij JuG. Doktor Bulgakov. K.: Zdorov'ja, 2010. 472 s [in Russian].
Barac B. The Neurology Clinic and Institute of Neuropathology at the University of Zagreb Medical School. Neurologija. 1984;33 (3—4):113—134.
Dugaski V. Ruski emigranti na Medicinskom fakultetu. Sveusiste u Zagrebu medicinski fakultet List Medicinskog fakulteta. 2010;29 br. 1:105—106.
Poljak S. The main afferent fiber systems of the cerebral cortex in primates (in 2 Vol.). Berkeley, 1932:370.
Dovbonos TA. Mykhailo Mykytovych Lapinskyi. Vidomi y nevidomi storinky biohrafii. Ukr nevrol zhurn. 2013;3:18—23 [in Ukrainian].
Nezabytye mogily: rossijskoe zarubezh'e: nekrologi 1917—1997: v 6 t / Rossijskaja gos. b-ka. Otd. lit. rus. zarubezh'ja ; sost. V. N. Chuvakov; pod red. E. V. Makarevich. M.: Pashkov dom, 2004. T. 4. s. 50. ISBN 5-7510-0278 -4 (t. 4). https://azbyka.ru/otechnik/Istorija_Tserkvi/nezabytye-mogily-rossijskoe-zarubezhe-nekrologi-1917-1997-v-shesti-tomah/ [in Russian].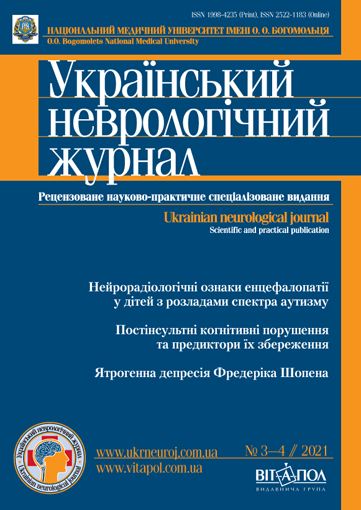 ##submission.downloads##
Розділ
До 180-річчя від дня заснування Національного медичного університету імені О. О. Богомольця